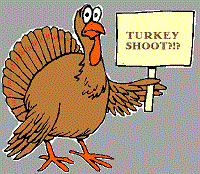 After being postponed at the weekend due to the cold weather, we are delighted to announce that the annual invitational turkey shoot is now scheduled for Sunday 17th December starting at 10am for those who have competed at 2 or more competitions this year.  
No booking is required, just turn up and book on the day. It's our way of thanking all of you for attending our competitions during the last year or so.
Format is 40 shot McCrae handicap for target rifle followed by 60 shot benchrest pistol.
Entry fee of €10 for entry to each event.
Refreshments will be served and prizes galore.
Looking forward to seeing everyone there.