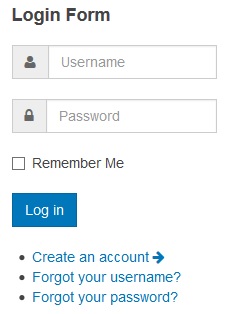 In order to book a firing point or detail, you must be logged in to the site. If you have not previously created an account on this website, then you will be required to create one before you can login. To either login or create an account, use the links at the top of the page as shown in the screenshot.

For users who have already created an account, just enter your username and password in the apropriate boxes and click the login button. If you have forgotten either your username or password, click the appropriate link under the login button.
To create a new account, click the link and enter your details in the subsequent page. Please use your real name in the fields provided so that your registration is accepted by the system.
Once you have created and activated your account, you can then login using your username and password in the login form pictured, and a new item will appear in the main menu which will give you access to the booking system. You can check whether you are logged in or not by looking at the login section above and if the login box is still visible then you are not logged in.